Advance Semiconductor Product Engineering
Semiconductor has changed rapidly every three years.   The Product Engineer uses engineering and cutting edge process and experimental methods to manage product issues to comply with datasheet and specification. Engineer reviews process efficiency and quality of finished products. They carry out tests and evaluation on new products, integrating the wafer sorting, assembly, packaging, molding, reliability, final testing, instrumentation, quality testing, and consolidate possible parameters shift and field application.  It an engineering, sciences, arts as well as mathematic tracking, analysis and solution.
To understand the complicated semiconductor product engineering
To learn the techniques on semiconductor process and foundation of product technology
Learn the different evaluation, experiment, testing, assembly, operational life, temp cycle, application and parameters shift over process and time.
Chief engineers, engineering managers, senior engineers, engineers etc.
SECTION 1: Advanced Semiconductor Engineering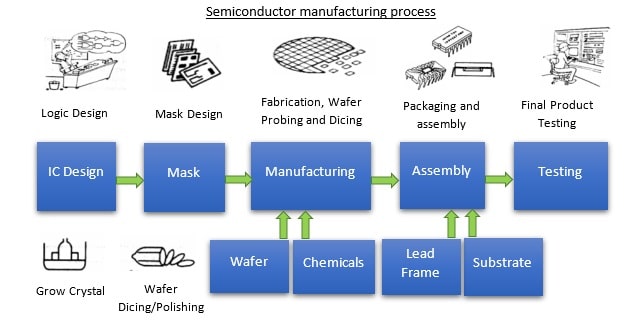 Wafer Fab Processing and development
Basic Processing Steps

Starting Material – Bulk Silicon Process
Wafer Specifications and Defects
Silicon on Insulator Process
Epitaxial Growth Process
Deposition
Oxidation
Diffusion
Ion Implantation
Dry Etching Processes
Wet Etching Processes
Chemical Mechanical Planarization
Lithography – Introduction
Lithography – Resolution
Lithography – Resists
Lithography – Subwavelength Issues
Lithography – Future
LOCOS and STI
Salicide and BEOL

The Evolution of Each Processing Step

Discussion over the trend of semiconductor
Evolution of semiconductor and wafer fab

Current Issues in Wafer Fab Processing

Brainstorming on the understanding of Wafer Fab challenge
The modern electronic circuits have now been evolved into ultra-large-scaled  integrated (ULSI) circuits with extremely high performances.   Discuss about the complicated issue facing Wafer Fab processing and yield development.
Combining with artificial intelligent circuits and sensors, high intelligent robots may even perform better than human beings in some jobs such as elderly care and microsurgery. To realize such high intelligent systems, new integrated circuits with much higher performance and less power consumption are indispensable.    What are those new challenges in the wafer fab process and how can those affect final product parameter shift, and the quality of the product engineering

Current Issues in Assembly and Packaging

Assembly and Packaging Processes Introduction
Package Types
Package Design Principles
Leadframes
Wire Bonding
Lead Finish and Trim – Solder Ball Attach
Die Attach
Transfer Molding
Packaging Business Issues

Current Issues in Wafer Probing and Final Testing

Automatic Testing Overview
Wafer Probing
Prober development
Planarization issue
Probe card development and issue
Boundary Scan Overview
Defect Classes
Tester and instruments
Test Process Basics
Timing Tests in Production
Class and QA Test limit
Intermittent Testing
SECTION 2: Product Engineering Building Block
The Advanced Product Engineering Development
Circuit Evolution from 1960 to Beyond 2000
New Product Introduction
Product Development Cycle
Product Datasheet and Parameters
Manufacturing Challenges for 45nm and below
Product Engineering and the yield performance with downsizing
SECTION 3: Product Guardbanding
NPI Proof of Concept, Prototype design and validation
Process Parameter shift
Guard banding concept and practicality
Determination of the Optimal Guardbanding
Acceptable Risk Decision in the Declaration of Conformity
Thermal Guardbanding
Reliability Concern Shift due to Chip Design vs Guardbanding theory
SECTION 4: Operational Life Test (OLT)
Bathtub Theory and Challenges in Modern World

Understanding Product Engineering perspective
Understanding of Economic perspective
Process improvement methodology

Infant Mortality (Early Life Failure)

Failure rate goes down quickly from high to low as most failures are design / process flaws rooted
Discussion and process engineering method

Useful Life

Failure rate remains low and steady with random causes to failure (e.g., EOS failure)
Discussion and process engineering method
Product Engineering viewpoint

Wear Out.

Failure rate rises sharply due to product aging
Cost Saving Method

Different test methods applicable for different failures.
Temp Cycle

Temp Cycle Pro and Cons
Temp Cycle Guardbanding

Reliability Guardbanding
SECTION 5: Reliability
Concept of Semiconductor Device Reliability
Dependencies of Failure Rate Function

Early Failures
Random Failures
Wear Out Failures

Screening and Quality
Characteristics of Semiconductor Reliability
Probability Distribution Used for Reliability Analysis
Reliability Criteria

Early Failure Period CriteriaRandom Failure Period Criteria
SECTION 6: Reliability Testing
BI(Burn-in) / ELFR(Early Life Failure Rate)

For assessing failure rate in the Early Failure section
Reducing Early Life Failure Rate via the Burn-in approach.
Theory on DPPM (Defect Parts Per-Million)

HTOL(High Temperature Operating Life)

Assessing the span of operating life
Theory on FIT or MTTF

HTGB (High Temperature Gate Bias)
HTRG (High Temperature Reverse Bias)
BLT (Bias Life Test)
IOL (Intermittent Operation Life).
SECTION 7: Statistic Theory
Six Sigma Theory
Six Sigma and PPM
Yield and Six Sigma
CPK
CPK and Yield
Product Engineering vs CPK and Yield and PPM
SECTION 8: Failure Mechanism
Failure Mechanisms Related to the Wafer Process

Time Dependent Dielectric Breakdown
Hot Carrier
NBTI (Negative Bias Temperature Instability)
Electromigration
Stress Migration
Soft Error
Reliability of Non-Volatile Memory

Failure Mechanisms Related to the Assembly Process

Wire Bonding Reliability (Au-Al Joint Reliability)
Ag Ion Migration
Al Sliding
Mechanism of Filler-Induced Failure
Whiskers
Moisture Resistance of Resin Mold Semiconductor Devices

Failure Mechanisms Related to the Mounting Process and During Practical Use
Cracks of the Surface-Mounted Packages in Reflow or Flow Soldering
Failure Mechanisms Related to Electrostatic Breakdown and Electrical Overstress Breakdown, Latchup, and Power Devices

Electrostatic Breakdown and Electrical Overstress Breakdown
Latchup
Power MOS FET Damage
SECTION 9: Test Methodology diagnose into Product Engineering
Analog and Digital Test
ATE
Instrumentation Gauardbanding
Class and QA Testing
Shift of parameter over process and time
Specific understanding into Advanced Theory for Final Test

Basic terms used and The purpose of testing in 21st century
Components of test system
Pin electronics card and PMU
Basic rules for Test Engineering integrated into Product Engineering

Characterization

Common characterization parameters
Methods and tools used to perform characterization
Issues concerning device characterization

PM and TPM
SECTION 10: Test Engineering Test
Understanding of Basic Test Engineering and its importance to Product Development
Test and Exams for Testing theory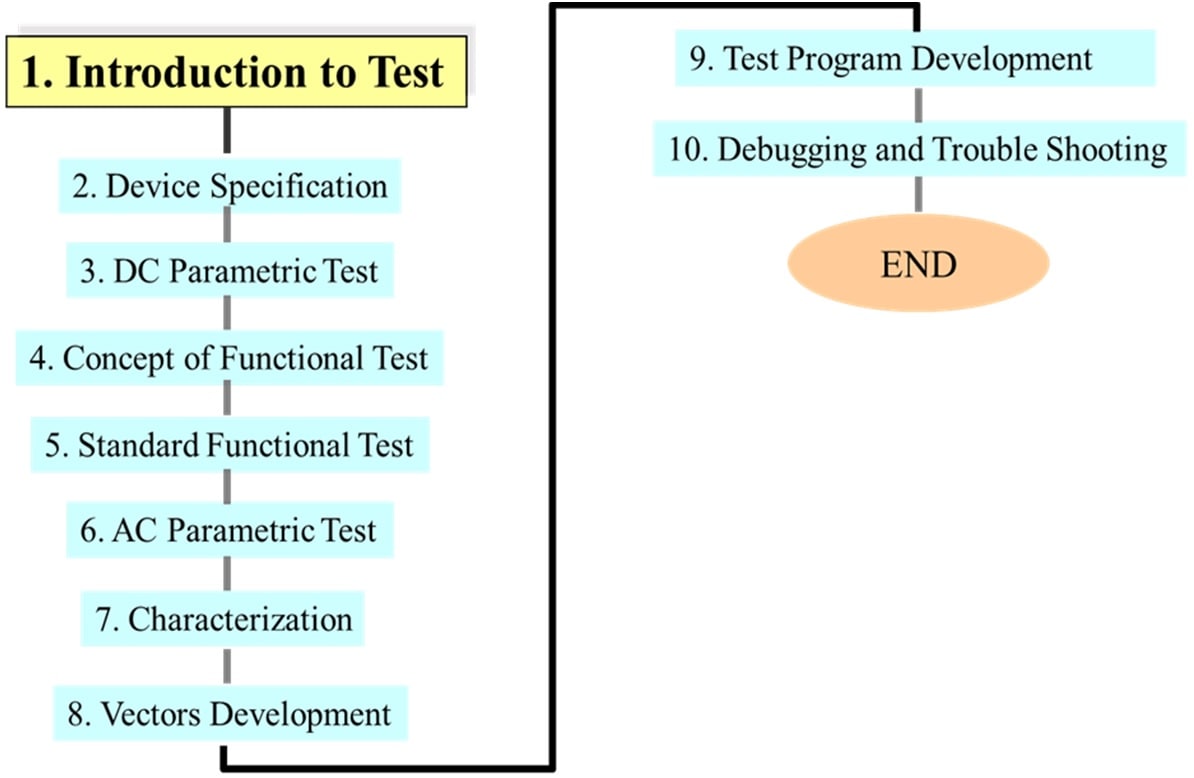 The roles and responsibility of product engineers
The relationship and how to work with test, assmebly, packaging and wafer probe department for the efficiency of proudct engineering yielding.
Trainer :  Lee Soong Yee (Malaysian)
Experience:
Chief of Engineers and Engineering Manager for New Product Introduction and IC Product Testing department, Motorola USA(8 Years)
Engineering Manager and Head for R&D department, chief engineering trainer, IRIS Corporation, Malaysia(3 years)
Senior Engineer, National Semiconductor Corporation, USA(8 Years)
External post graduate degree supervisor and examiners for master cum PhD degree, Malaysia Universities and oversea universities Malaysia campus.
Content writer, author and course content developer for technical and engineering training courses,  wrote for training company in Malaysia, Singapore, Indonesia, Taiwan and Vietnam
Former City councillor, Petaling Jaya Municipal, Malaysia
Consultant and engineering trainer, for few training companies in Malaysia, Singapore and Brunei (Currently)
CEO, CatEagle Engineering Sdn Bhd(Currently)
Principal, CatEagle Translation & Training (Currently) – Approved interpreter for United Nations, International Arbitration Center, High Court and Inter-Government meeting )
Specialty:
Conducted technical and engineering trainer to engineers, technical staff, MNC and university lecturers – 15 years
Conducted leadership and development training to corporate executives, managers and management team – 8 years
Iris corporation chief trainer (For all technical training)
Motorola University trainer (For technical and engineering training)
Simultaneous interpretation, language translation, conducted over 1000 hours of simultaneous and consecutive interpretation and 12,000 pages of translation.
Provide multi discipline of engineering training, technical training, management training, – approximately over 1000 training hours of engineering system, manufacturing training, to MNC staff, CEO, Managers, university lecturers, associate professors, professors, engineers, executives, engineering manager and technicians.
Engineering management, engineering consultancy and factory operation.
Society Activities:
Methodist church (Ampang parish) chairman, and lay leader (means head of the church executive committee).
Ampang Chinese Methodist Church local lay preacher
Active in society activities and volunteer organization and NGO
Two chairman for social agency
Currently 6 positions as committee member for social organization