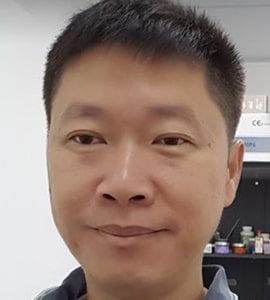 Chief Interpreter & Principal
SYLee is an engineer by profession for the last 19 years. He is now English & Malay to Chinese translator cum interpreter and vice versa. He is native Malaysian Chinese, mother tongue in English and Chinese Mandarin, educated in Malaysia under the English, Chinese and Malay medium. He has 21 years experiences as translator and interpreter in Malaysia, Singapore, China, Germany, UK and America. He has rich experiences in simultaneous and consecutive interpretation both English and Chinese Mandarin, and Malay.
SYLee has accumulated over 1680 hours of interpretation experience, of which 1080 hours of consecutive interpretation and 600 hours of simultaneous interpretation, and more than 12,000 pages of translation experiences so far. He works for customers from SME, private sectors, university, colleges, banking, government agencies, MNC, religious conferences, churches, town council and some individual and tourist, (including the interpretation for ministers, ambassadors and government officers from Malaysia and abroad)…….some examples are the World Health Organization, United Nation, Malaysian Government, Arbitration Center, Court, UK engineering society (IChemE, EC), Political parties General Assembly, Corporate Annual and sales meeting, MNC factories, head of state, political figures, Head of province from China (Kwangxi, Xian, Hunan etc), International NGO (AIDS conference), head of government official from other countries (Taiwan, Africa, China, Malaysia), company CEO (Public Listed company in Malaysia, China, Taiwan and Australia), direct selling company, insurance company (Prudential, Great Eastern, NU Skin, Herbal Life), United Nation, Head of nation, Prime Minister, President and minister, market research company (Passion, Majestic), NGO (example : Summit of Women 2013), charity organization (HISTEEAM), religious conference (Methodist), international working groups and others.
SYLee is qualified engineer with MIEEE (New York, USA) and Bachelor of Engineering (Electronics) from North Carolina USA, and diploma in science major in Electronics from Malaysia. He also holds a DBA, MCS, a certificate in Chinese Education & China History from Taiwan, and AMIM (Associate of Management) from Kuala Lumpur Malaysia and a certificae of team development from Germany. He is native to Simplified Chinese and conversant in Traditional Chinese and mother tongue English. At the same time, he is a qualified Chinese language teacher, with more than 15 years of part time Chinese teaching experiences in Kuala Lumpur, Malaysia.
Since Year 1994, SYLee worked as engineering manager, senior staff engineer and then head of engineering department as well as engineering manager for National Semiconductor Coporation and Motorola Corporation for 16 years. He managed few engineering teams in charge of New Product Introduction and Test System Engineering. He led a group of engineers working on New Product Introduction across 3 geographical continents, test development, engineering process improvement, software, hardware and networking, as well as semiconductor technology research and development.
SYLee also in charge of final year student thesis supervisor and master degree students external examiner supervisor for Monash and Mara University Kuala Lumpur campus. Years back, before SYLee joined Motorola, he worked for National Semiconductor Corporation for 8.5 years in Malaysia, Singapore and California USA.
SYLee was invited to join IRIS Corporation in Sept 2009 and is the head of R&D department in charge to revolutionize all technical activities in IRIS Corporation. He is the trainer for all technical cum manufacturing program for IRIS staff, including engineers, managers and department head. SYLee in charge to train those staff in DMAIC, SPC, 8D, FMEA, 7QC, LEAN, quality system, GRR and other manufacturing best practices. He also played the consultation roles for all technical and manufacturing process in IRIS.
Besides, SYLee is certified trainer for technical and management training registered and approved by Malaysia government HRDC (Human Resource Development Council) or PSMB since Dec 2012, he has conducted more than 1000 hours of technical training to engineering manager, engineers from various fields, technician, supervisor and technical specialist since 1997 till now.
SYLee has expatriate experiences in USA and Singapore. Besides working as engineer, senior engineer, engineering manager, chief engineer and now principal for CatEagle. He is active in social, religious and non government organization activities, he is holding two chairman position, two secretary position and 4 committee position over 8 different organizations in Malaysia and this South East Asia region.
SYLee is a Methodist, local church lay leader, chairman, stewards and local lay preacher.